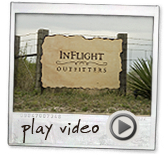 SOUTH TEXAS WHITETAIL BUCK HUNTS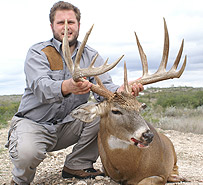 InFlight Outfitters works in conjunction with the Texas Parks & Wildlife Department through a Managed Lands Deer Permit. Our extensive Whitetail management program began in 2004 and our success rate speaks for itself with nearly 100% harvest achieved on each hunt. Quality Whitetail Bucks are available for harvest each year beginning in early October and continuing through February. InFlight Outfitters offers a limited number of Whitetail Buck hunts each season and advance reservations are necessary to ensure your opportunity to hunt. Our all-inclusive, "one on one" or "semi-guided" hunting packages enable our Hunters the freedom to fully enjoy the "in the field" experience by selecting and harvesting a Whitetail Buck they desire most. InFlight Outfitters offers Trophy Whitetail hunts for both rifle and bow hunters.


Whitetail Hunter Rate
Double Occupancy - 495.00 per hunter/ per night stay – plus Trophy Fee
Single Occupancy – 595.00 per hunter/ per night stay – plus Trophy Fee
The Whitetail Hunter Rate includes Deluxe Room accommodations & amenities, meals, snacks, beverages & bar, an afternoon and morning hunt, one on one guide, or semi guided.
NON-HUNTER GUEST RATE
Double Occupancy - 295.00 per hunter/ per night
Single Occupancy – 395.00 per hunter/ per night
The Non-Hunter Guest Rate includes Deluxe Room accommodations & amenities, meals, snacks, beverages & bar.
WHITETAIL BUCK TROPHY FEES
Whitetail Buck up to 149 7/8" – 3,500.00
Whitetail Buck 150" to 199 7/8" – 6,900.00
Whitetail Buck 200" plus – 12,500.00

Whitetail Buck Trophy Fees include Game caping & cleaning. Scoring of all harvested Trophy Whitetail Deer is conducted at the Ranch by an InFlight Outfitters representative. Calculations are determined by using the Boone & Crockett Gross scoring system. Calculated gross scores are final and are used to accurately determine Trophy Fees. All wounded Deer including evidence of drawn blood is considered a kill and the appropriate Trophy fees will apply.
DEPOSIT & TROPHY FEE REQUIREMENTS & ADDITONAL INFO
A deposit is required to secure your dates to hunt.

The deposit amount is equal to the Trophy Whitetail Deer Hunter Rate and is based on the number of nights reserved.

Trophy Fees are due at the conclusion of hunt.

We accept Corporate Checks and all major Credit Cards.

Each hunter will need to provide a Rifle (Caliber 270 or larger), Ammo, valid Texas Hunting License, comfortable clothing, boots & personal items.

Caps, Clothing, Boots, Coolers and additional items may be purchased in our Pro Shop..

Trophy Whitetail Deer Hunter Rates do not include applicable lodging & food taxes or gratuities for staff.

Taxidermy, Deer Processing & shipping are available upon request.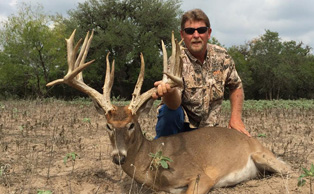 Visit a gallery
All guests must sign a Liability and Indemnification Release upon arrival